Showing 25–34 of 34 results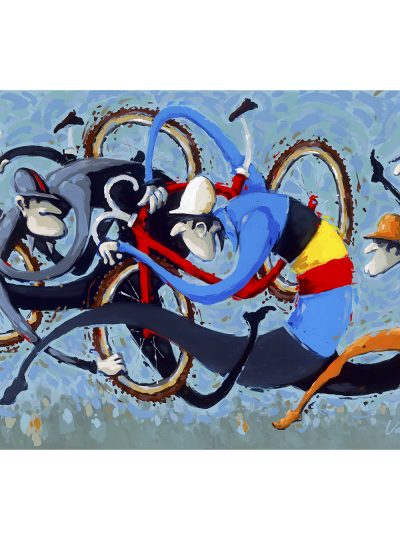 Belgian Tango | Original Cycling Art
Dancing in the mud.
I'm very excited to present this original art painting. The work is six feet by four feet on canvas and commands a large wall space, over a sofa, fireplace or large wall in your office. It needs space to be enjoyed and should bring a smile to your face every day.
Belgian Tango seemed the right name — with flying feet, entangled arms and intense attitudes from my riders as they run though the muddy cross course. It's a scrum on wheels, and somehow they always seem to get through the mess. I'm a big CX fan, hats off to the riders of that grueling sport.
Prints are available in the Open Editions prints, but the one of a kind painting, is the real show stopper.
Contact me with any questions or if you just want to talk about this painting.
Original Cycling Art | 48×72 inches | Stretched Canvas | Acrylic Paints | Ships rolled on a Genie Canvas for easy remounting
Artist: Michael Valenti
$

4,800.00
Select Options