Showing 1–20 of 27 results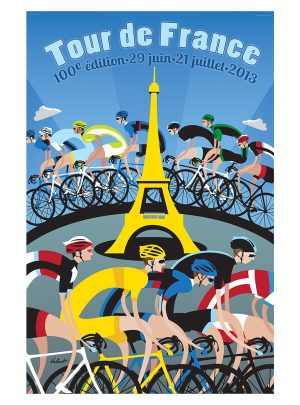 TdF Eiffel Tower | Cycling Art Print
2013 Tour de France Poster
This 2013 Tour de France poster celebrates the anniversary of the 100th Edition of the famed race. Starting in Corsica on June 29 and winding its way around the French country side, riders arrived in Paris on July 21.
The art in this Tour de France poster features riders of the tour circling the Eiffel Tower and was originally designed for Velo Magazine's Tour de France Issue 2013.
Select the style of Valenti Bicycling Posters you like best from the menu below, choose Watercolor Paper Print or Stretched Canvas. Be sure to check the product Description for details.
Shop for WATERCOLOR PRINTS
Shop for ORIGINAL PAINTINGS
Chasing the Peloton WATCH VIDEOS
Michael Valenti creates unique Cycling Art from Iconic Races, Places and Faces around the world. With over 100 different digital art prints, watercolor original paintings and large acrylic paintings on canvas there's new work to enjoy all the time. 
Michael's drawing on location work has brought him to over 60 UCI World Tour stages including the Tour de France, Giro d'Italia, Tour Down Under and many more.
Private commissions and event design projects for marketing and merchandise are also a large part of what Valenti Cycling Art is all about.
$

85.00 –

$

450.00
Select Options