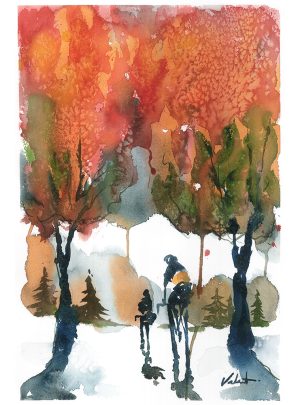 Autumn Forest | Valenti | Watercolor Bicycling Art Print
Just brilliant!
The weekend was perfect for an autumn forest ride, I just love the fall colors so I painted a picture. Michael Valenti Watercolor Bicycling Art Prints capture the emotions of cycling.
Created as an original painting the prints are the same size and very closely represent the colors and texture of the original art, as best a print can.
Shop for ORIGINAL CYCLING ART
Shop for over 100 CYCLING ART PRINTS
Chasing the Peloton WATCH VIDEOS
Michael Valenti creates unique Cycling Art from Iconic Races, Places and Faces around the world. With over 100 different digital art prints, watercolor original paintings and large acrylic paintings on canvas there's new work to enjoy all the time. 
Michael's drawing on location work has brought him to over 60 UCI World Tour stages including the Tour de France, Giro d'Italia, Tour Down Under and many more.
Private commissions and event design projects for marketing and merchandise are also a large part of what Valenti Cycling Art is all about.
$

100.00
Select Options